Pharmaceutical compounding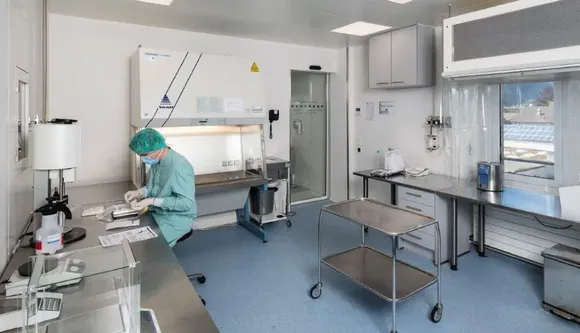 We produce sterile and non-sterile compound preparations in small batches to order for other pharmacies, doctors and hospitals in accordance with the "Rules of Good Manufacturing Practice for Medicinal Products" from the Swiss Pharmacopoeia.
Pharmaceutical compounding can be carried out by public pharmacies and hospital pharmacies that hold a cantonal production license which allows them to make formulations that are not available on the market accessible to patients. By doing this, Bichsel makes an important contribution to improving basic medical care. We hold both a cantonal and a Swissmedic manufacturing licence, and we manufacture all our preparations in compliance with the applicable GMP guidelines.

Production according to the compound prescription is done in line with GMP guidelines (Good Manufacturing Practice) in accordance with the Pharmacopoeia Helvetica (Swiss Pharmacopoeia). This include the initial analysis, the manufacturing, the documentation and the risk analysis (in accordance with Swissmedic). We hold both a cantonal and a Swissmedic manufacturing licence.

pharmaceutical compounding is done according to GMP guidelines

Our

In accordance with the applicable legal requirements, a valid contract manufacturing contract between two pharmacies must be put in place for ordering any compound preparations manufactured through pharmaceutical compounding.
We can send formula-based medicinal products to doctors / dentists if the doctors will be administering the medicinal products to the patient. For this, the indication for which the medicine is used must also be stated. According to Art. 9 (2), a and c. of the TPA (Swiss Therapeutic Products Act), we are responsible for the market release of the manufactured product.
You can place your order by sending an email to bestellung@bichsel.ch or by sending a fax to +41 33 827 60 10.
Please send us your written order. You can also call us to see if we can manufacture the preparation that you need. We will manufacture it as quickly as possible. We will contact you if we do not have the necessary active ingredient's for your preparation in stock, if we cannot manufacture it or if we have any questions about your order.
If we do not have the relevant compound preparation in stock, it usually takes us between 5 and 15 working days to manufacture it. For urgent orders, please note the required delivery date on the order.